Back to all posts
Posted on
Preparing for Next School Year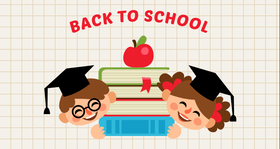 Dear Parents:
As the school year comes to an end we would like to take this opportunity to thank you for your participation in your child's education throughout the year.  Here are a few reminders for the summer.
Report Cards
We encourage parents to please save your child's 2020-2021 Progress Report Card. During the summer transition all report cards will be archived from PowerSchool as of August 2021. 
Next Year's Classes
We are already gearing up for another fantastic school year next year.   Our year begins on Wednesday, September 1st and 2nd with staggered entry for grade 1-4 students (more information on staggered entry is included in the Summer edition of the newsletter Newsletters) as well as staggered entry dates for kindergarten and Pre-K. 
Wednesday, September 1: Staggered Entry Grades 1-4: A-J
Thursday, September 2: Staggered Entry Grades 1-4: K-Z
Kindergarten orientation - staggered entry as per summer mail out letter instructions
You will receive information about your child's classroom placement through your PowerSchool Parent Portal ( https://powerschool.eics.ab.ca/public/home ). It will be available on August 16.  The PowerSchool Parent Portal link is also on our school website at hs.eics.ab.ca under Parents.   
School Supplies
For the 2021-2022 school year, you will be required to purchase or supply basic school supplies for your child, including the following: a backpack, gym attire, indoor shoes, a personal use headphone set and one-to-one technology device for grades 4.  Enhancement programming costs such as field trips etc. will be posted to your power school account and due at the end of September.  You will receive an email when fees have been posted. School Supplies can be ordered at Staples as well starting July 14.2021.